Find California AgrAbility in the news!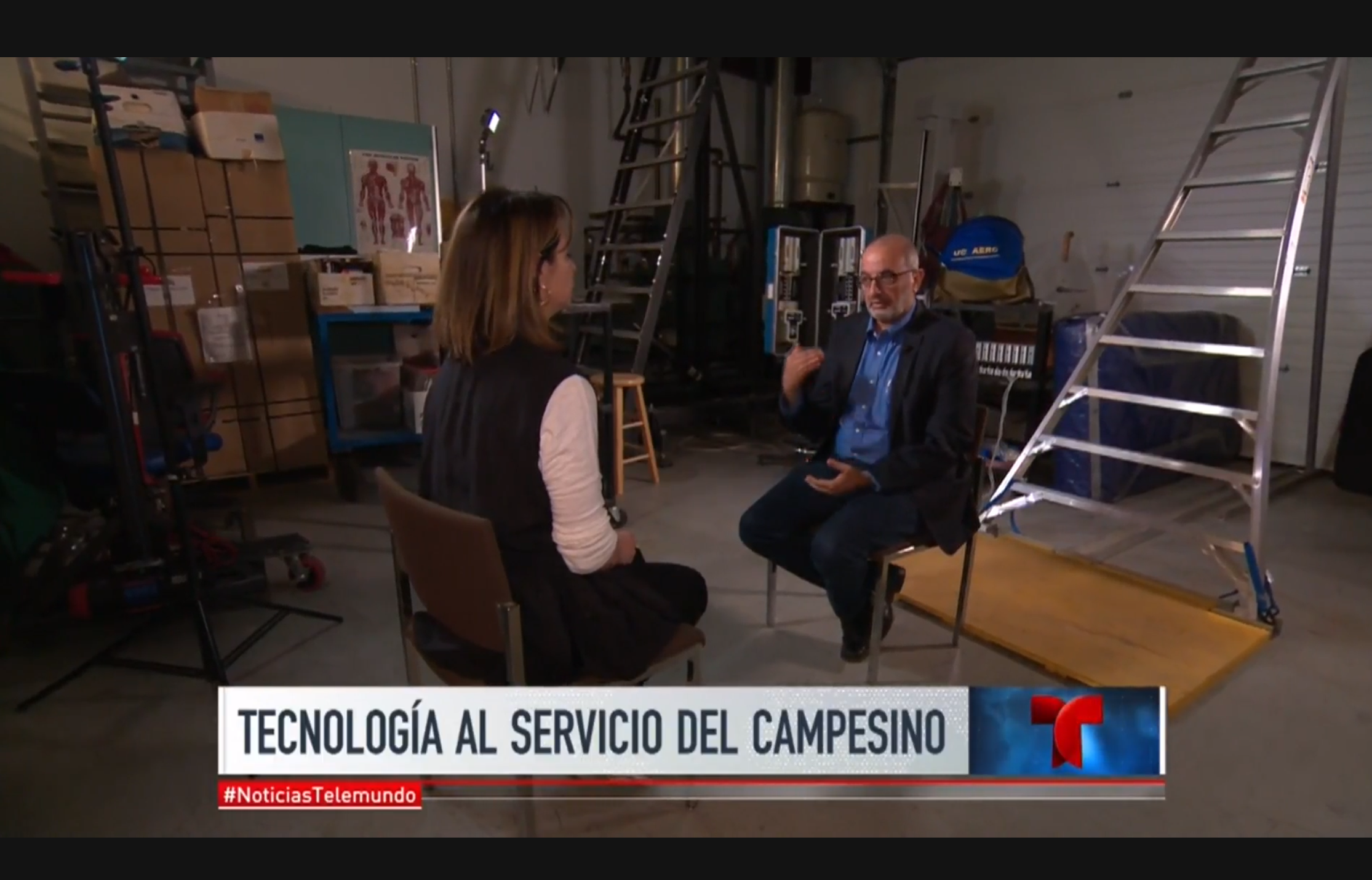 TELEMUNDO- An Important Tool to Avoid a Broken Back (Spanish)
An engineer, Dr. Fadi Fathallah, has devised a system of sensors, machinery and even a robot to help thirty million workers in the field suffering from back injuries. "Almost everyone suffers from back pain and they retire too young because they cannot take it anymore," said Fathallah. It is the sad reality of agriculture, one of the oldest trades of humanity that today struggles to change using the latest technology. View the interview here.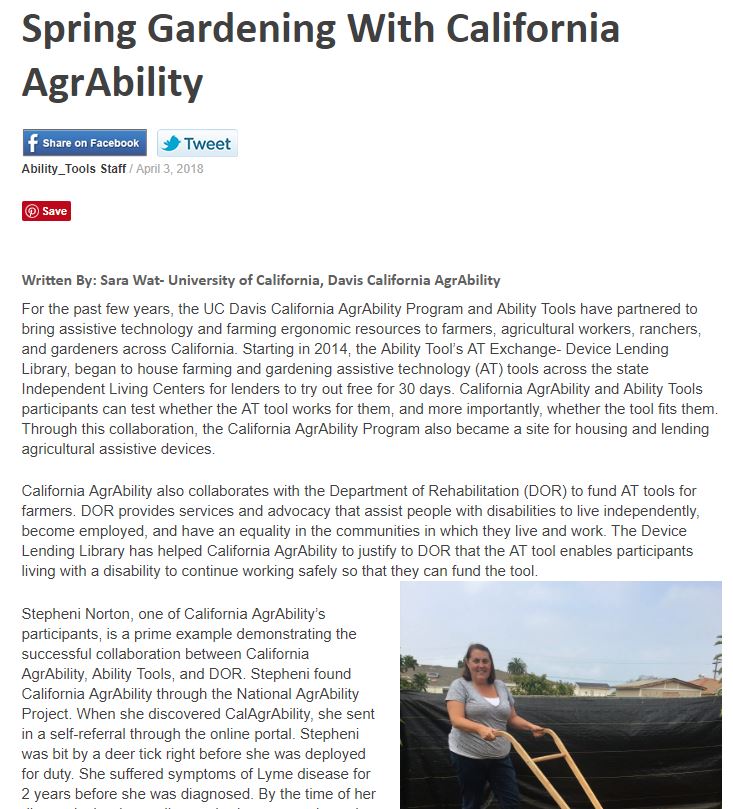 Ability Tools Blog- Spring Gardening with California AgrAbility 
For the past few years, the UC Davis California AgrAbility Program and Ability Tools have partnered to bring assistive technology and farming ergonomic resources to farmers, agricultural workers, ranchers, and gardeners across California. Starting in 2014, the Ability Tool's AT Exchange- Device Lending Library, began to house farming and gardening assistive technology (AT) tools across the state Independent Living Centers for lenders to try out free for 30 days. Read more here!
WCAHS- 5th Annual Promotores Conference Takes Place in Yolo, County
For the past four years, representatives from different organizations located in Yolo County have come together to organize an Annual Promotores Conference. This event is always free and conducted in Spanish, and it is open to anyone interested in learning about community issues such as labor rights, child development, health and wellbeing, domestic violence and others based on what participants are interested in. The event is a great resource for community leaders and educators to gain valuable knowledge to bring back to their communities. Read more here!
WCAHS- Spotlight Series: California AgrAbility
California AgrAbility provides education, assistance and support to farmers, ranchers, workers and their families who have an injury, disability, or illness that limits their ability to perform farm tasks. CalAgrAbility staff help find solutions and resources to meet client challenges, even though funds cannot be given directly to agricultural families.
Take the case of Stepheni Norton, who was bit by a deer tick right before she was deployed for duty in the Coast Guard. For 2 years, she suffered symptoms of Lyme disease before she was diagnosed. By this time her Lyme disease had progressed causing degenerative arthritis, scaring in her lungs, and had started destroying her jaw. After a year, she was declared a 100% disabled veteran, enabling the military to relieve her from her duty. Read more here!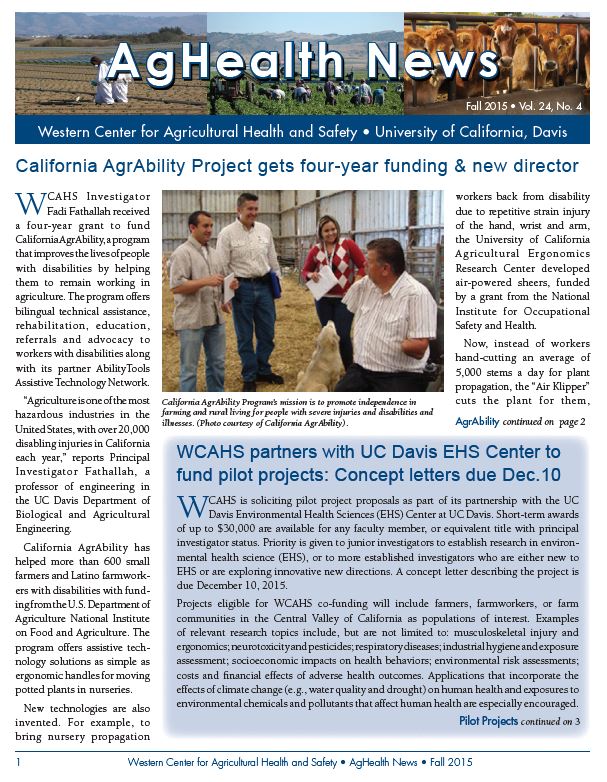 AgHealth News- California AgrAbility Project gets four-year funding & new director
WCAHS Investigator Fadi Fathallah received a four-year grant to fund California AgrAbility, a program that improves the lives of people with disabilities by helping them to remain working in agriculture. The program offers bilingual technical assistance, rehabilitation, education, referrals and advocacy to workers with disabilities along with its partner Ability Tools Assistive Technology Network. Download Accessible PDF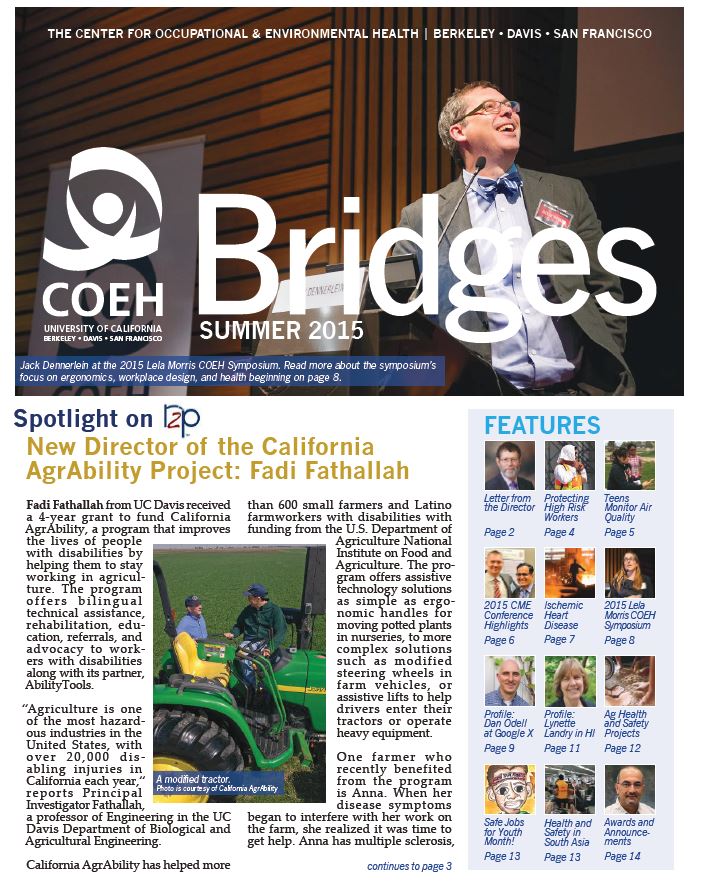 COEH Bridges- New Director of the California AgrAbility Project: Fadi Fathallah
Fadi Fathallah from UC Davis received a 4-year grant to fund California AgrAbility, a program that improves the lives of people with disabilities by helping them to stay working in agriculture. The program offers bilingual technical assistance, rehabilitation, education, referrals, and advocacy to workers with disabilities along with its partner, AbilityTools. Download Accessible PDF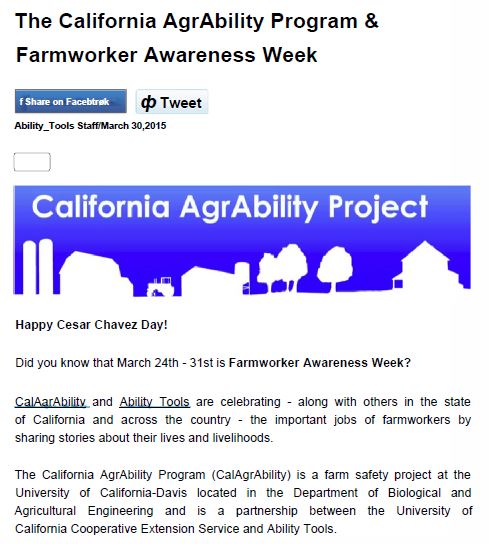 The California AgrAbility Program & Farmworker Awareness Week
CalAgrAbility and Ability Tools are celebrating – along with others in the state of California and across the country – the important jobs of farmworkers by sharing stories about their lives and livelihoods. Download Accessible PDF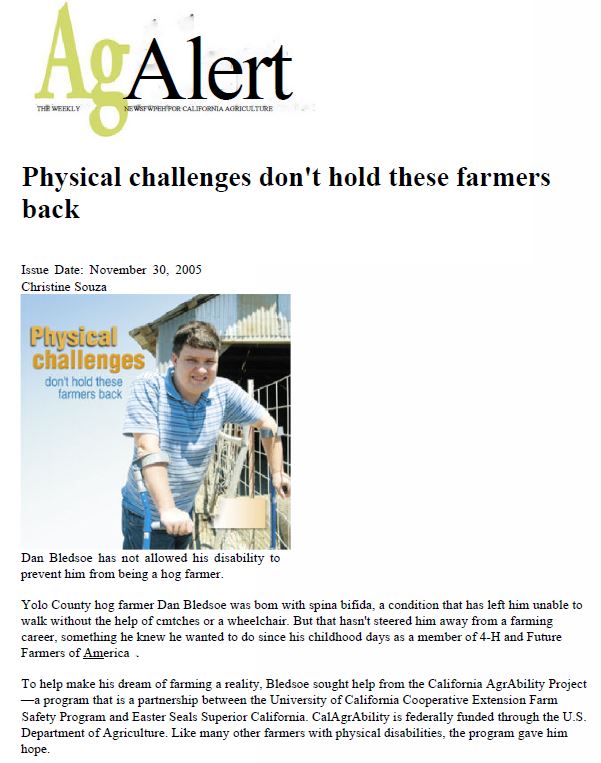 AgAlert- Physical challenges don't hold these farmers back
Yolo County hog farmer Dan Bledsoe was born with spina bifida, a condition that has left him unable to walk without the help of crutches or a wheelchair. But that hasn't steered him away from a farming career, something he knew he wanted to do since his childhood days as a member of 4H and Future Farmers of America. Download Accessible PDF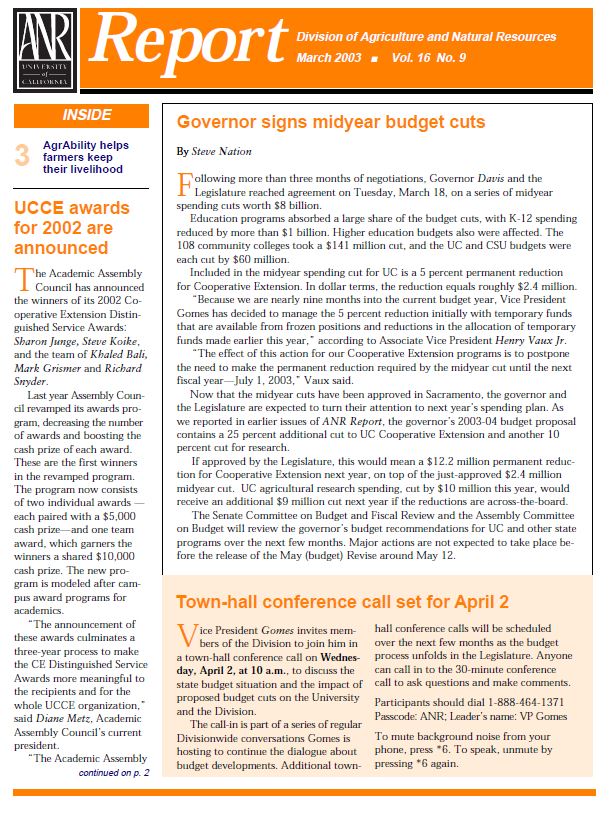 ANR Report- AgrAbility project helps farmers cope with serious injury, illness
Farmers and farm workers who sustain a serious injury or have an ailment or condition that hinders their ability to work can get assistance from a new USDA-funded project in California called AgrAbility that is designed to help them continue farming and living independently. Download Accessible PDF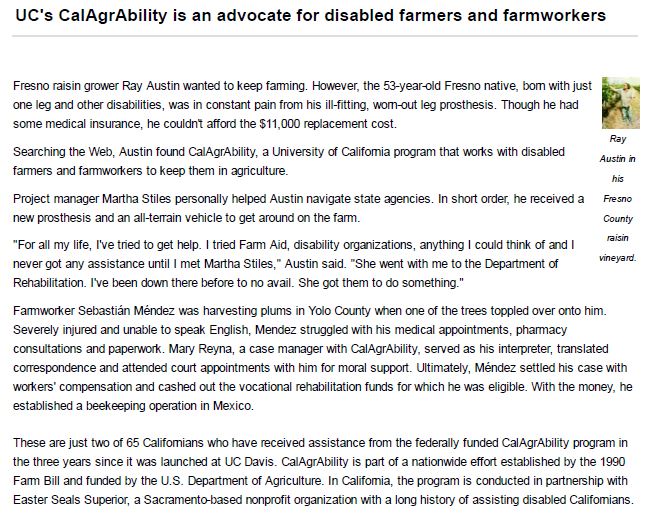 California AgrAbility Success Story
Fresno raisin grower Ray Austin wanted to keep farming. However, the 53 year old Fresno native, born with just one leg and other disabilities, was in constant pain from his ill fitting, worn-out leg prosthesis. Though he had some medical insurance, he couldn't afford the $11,000 replacement cost. Searching the Web, Austin found CalAgrAbility, a University of California program that works with disabled farmers and farmworkers to keep them in agriculture. Download Accessible PDF  Español