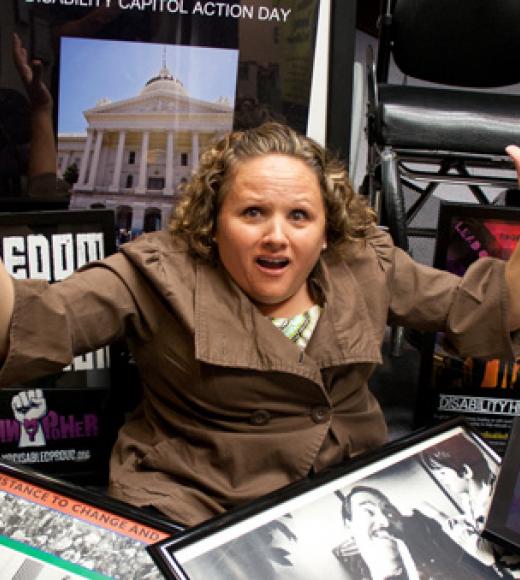 1000 G Street #100 • Sacramento, CA 95814
Bio
Christina Mills has been with the California Foundation for Independent Living Centers for over a decade. She became Executive Director of CFILC in February of 2018 after serving as Deputy Director. Christina began her career at CFILC in 2006 as the Statewide Community Organizer.

Born in San Diego, California, Christina began her post-secondary education while simultaneously pursing her career in disability rights. In 1998 she served as one of five Field Coordinators for the Orange County Independent Living Center, The Dayle McIntosh Center. From there she went on to work for Access to Independence in San Diego for 6 years.

In 2001 Christina was appointed by the California Governor as a member of the State Independent Living Council. As a young professional she was active in several leadership activities including National Council on Disability, Youth Advisory Committee Chair, a Youth Consultant for the National Family Voices, Kids as Self Advocates (KASA) project, and has continued to engage in planning and implementation of the California Youth Leadership Forum for Students with Disabilities since her participation as a Student Delegate in 1995. Christina's passion for offering youth leadership opportunities for others led her to become Co-founder of CFILC's youth program, YO! Disabled and Proud.

In 2008, she was awarded the National Council on Independent Living Region IX Advocate of the Year. In 2011, she received the California Coalition for Youth Sue Mathewson Mentoring Award and was inducted into the National Susan M. Daniels Disability Mentoring Hall of Fame in 2016.

Christina serves on the board of the Disability Rights Education Defense Fund (DREDF and is a State Board of Education Appointee to the Special Education Advisory Commission of California.

Christina proudly identifies as a disabled. Her favorite poem written by Laura Hersey is, "You Get Proud By Practicing." When she's not working or volunteering, Christina can be found with her husband and son, gardening, traveling or taking it easy.